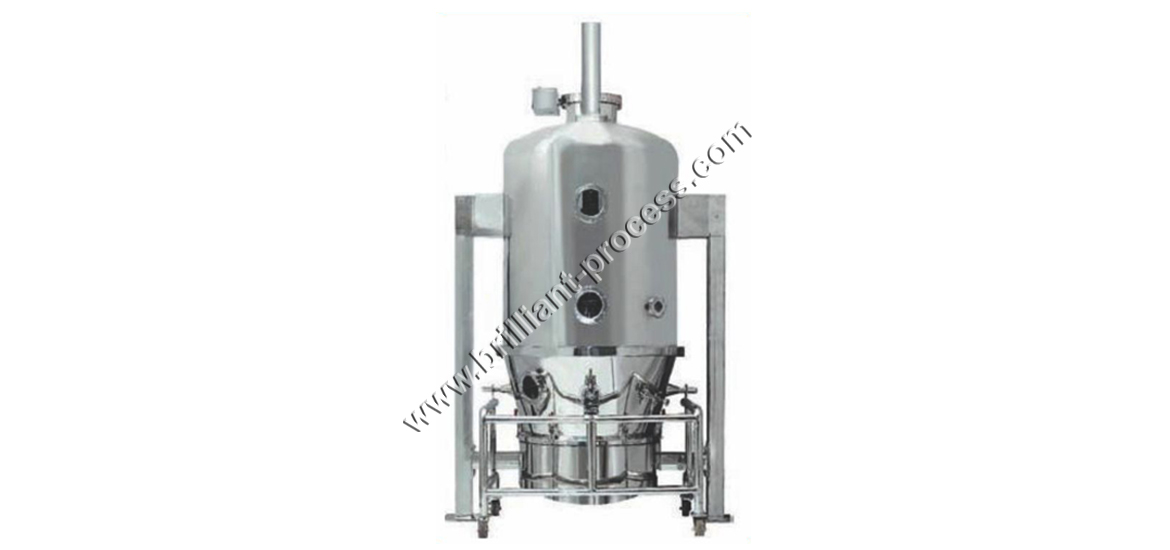 ---
Product Code : 29
Brand Name : BRILLIANT PROCESS
Capacity : 5kg. to 500kgs
Salient Features :
Fluid-Bed technology offers several advantages such as no product lump formation/caking, no particle overheating/cooling, a well defined product residence time, uniform product quality, better energy economy due to lower specific heat requirements etc. In 'Fluid-Bed' the material is suspended in an upward moving hot-air and the mass behaves like a boiling fluid after "Fluidization".
This is the state of fluidization. The 'Fluid-Bed' Dryers are most suitable for drying granular, crystalline, coarse or similar material. It is also possible to dry very fine crystals or very coarse material. The air is passed from the bottom of the container which has got perforations of SS. fine wire-mesh. Hot air passes through the product container and therefore the turbulence in the product is obtained and hence the product moves up and down in the product container.
Due to this the heat transfer is very quick and the product is dried very faster without appreciable loss of heat. The Fluid Bed Dryers are not suitable for drying liquids of pasty materials. The fluid bed Dryer will be complete with 2800 R.PM.,TEFC Motor Blower, control panel with Timer, 2 no. Temperature gauge, Filter bag, SS-316 Quality container with Trolley & heater or steam radiator.