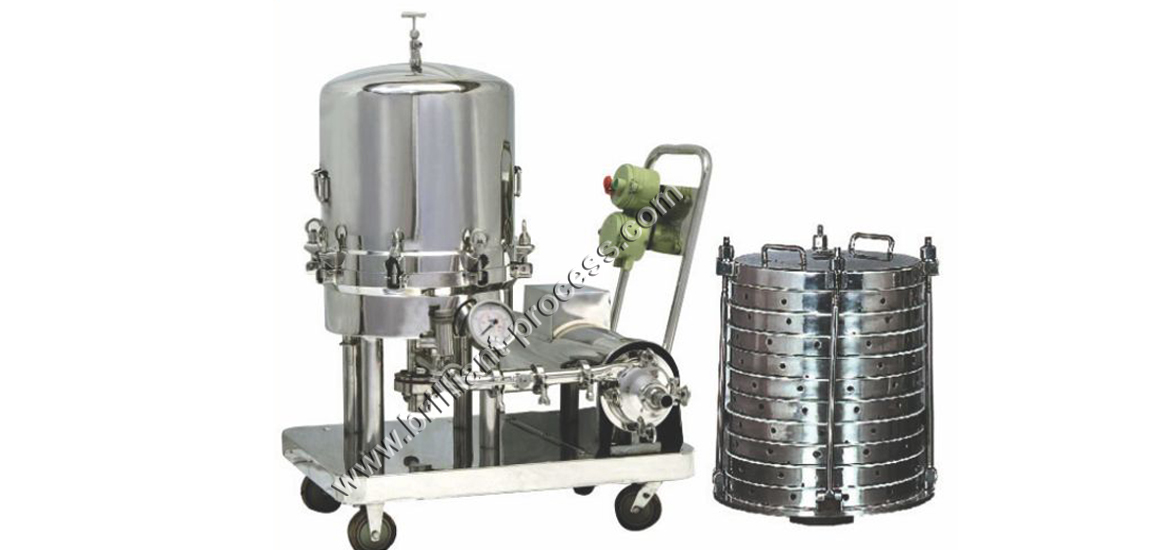 ---
Product Code : 26
Brand Name : BRILLIANT PROCESS
REVERSE FLOW ZERO HOLD UP TYPE : Here the direction of flow of liquid is exactly opposite to the flow in standard filter i.e. the impure liquid to be filtered enters the filter from the bottom into the center channel & goes to the top of each plate. The clear filtrate flows out from openings on side of plates to the shell & then to the outlet. This flow ensure almost 100% filtration of the liquid which is not so with the standard flow type.
Salient Features :
Complete filtration of the batch without any hold up due to reverse flow of liquid hence large saving in time & cost.
Back wash facility can be provided for continuous operations.
No scavenger arrangement required.
The cake, filter aid & solids remain totally enclosed allowing filtration of toxic, hazardous & explosive liquids.
The top dome structure ensures fast & easy removal of cartridge assembly & cleaning of cake.
Model
Dia. of Plates
No. of Plates
Filtering Area m²
Cake holding Cap. (Ltrs)
Flow Rate / Hrs
Size of Pump
Motor HP
BPMZH - 8
8"
6 Plates
8 Plates
0.217
0.279
4.9
6.3
600
800
½"
½"
1HP
1HP
BPMZH - 14
14"
8 Plates
10 Plates
12Plates
0.819
1.001
1.183
24.75
30.25
37.75
1500
1700
1900
1"
1"
1"
2HP
2HP
2HP
BPMZH - 18
18"
10 Plates
12 Plates
15Plates
24Plates
1.65
1.95
2.4
3.75
55
65
80
125
4000
4600
5500
8200
1½"
1½"
1½"
1½"
3HP
3HP
3HP
3HP
BPMZH - 24
24"
15 Plates
18 Plates
24 Plates
4.192
5.035
6.625
144
171
225
7000
8500
12500
2"
2"
2"
5HP
5HP
5HP
BPMZH - 33
33"
7 Plates
-
-
-
2"
5HP