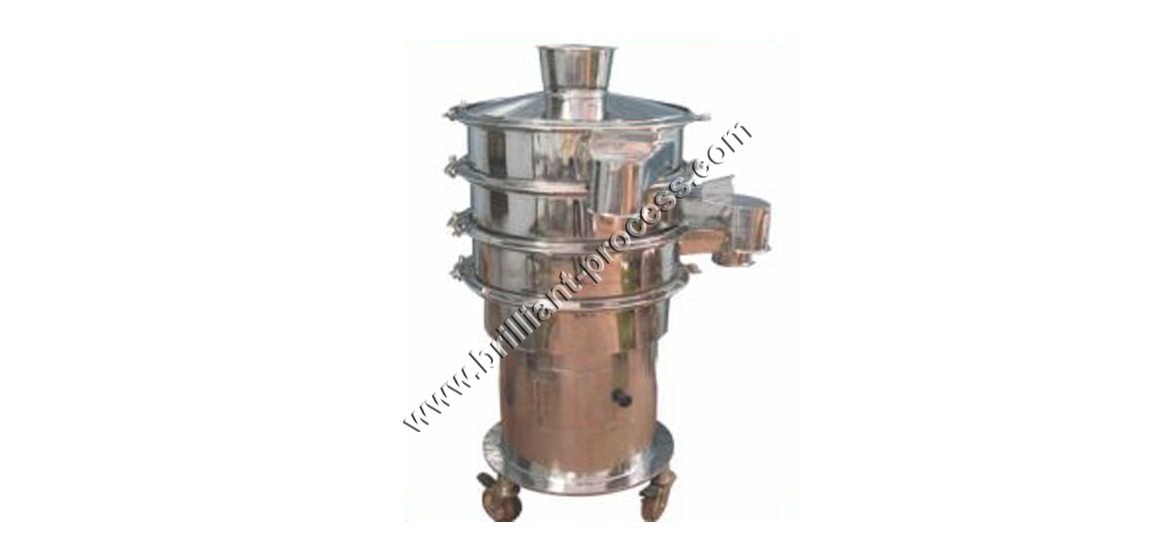 ---
Product Code : 14
Brand Name : BRILLIANT PROCESS
Capacity : 50 Kgs. - 2000 kgs per hour
Salient Features :
Brilliant's Vibro Sifter works on vibratory principle. The required vibratory motion is obtained from specially designed Vibrating motor, which is fitted underneath the vibrating assembly. The complete vibrating assembly is isolated from the base by means of specially designed rugged springs. Vibratory-motor is fitted with top & bottom eccentric weights designed as per required centrifugal force. This whole assembly is covered by SS plate.
The deck hopper is fabricated from SS 316 sheet. To collect the discharge tangential, discharge port is provided on the hopper. Conical shape top lid is provided with charging port. Lid Free silicon molded Screen is fitted in between the bottom Hopper & top hopper. The machine inner & outer surfaces are mirror polished.
Mesh sizes (inches): 12, 20, 24, 30, 36, 48, 60, 72, and 108
GMP Model with contact parts in SS 316. & Non Contact Parts in SS 304.
Amplitude of Vibratory Motion adjustable through moveable eccentric weight.
SS 316 Hood with 200 mm dia Nozzle for dust free charging of Powders.
The machine can easily be dismantled, cleaned & assemble through quick opening SS 316 clamps.
Portable mounted on sturdy PU Coated Castor Wheels. The Vibrating assembly is isolated by rugged springs.
Finish: Inside - 0.4 Ra. Mirror Polish. Outside - 0.5 Ra. Mirror Polish.
The machine is designed to be totally dust free. Provision of a vent.
Dust free docking station for loading and Unloading.
Silicon Bonded Integrated Mesh.
Silicon Balls for Lump Breaking & Mech cleaning.